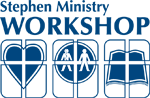 Saturday, October 27, 2012
9:00 am – 1:00 pm
Trinity Lutheran Church – Bismarck, ND
Christ at work in and through gifted, trained lay caregivers–that's the Stephen Ministry vision! This half-day event will show you how to make that vision a reality.
In three sessions, you and your team will gain hands-on ministry skills through a sample of Stephen Minister training, deepen your vision for care and outreach, and learn how to bring the life-changing benefits of Stephen Ministry to your congregation.
Three sessions will be offered:
Ministering to Those Experiencing Grief
An Introduction to Stephen Ministry
How to Care in a Distinctively Christian Way
The cost is $15/person or $50 per congregation (4 or more). To register and for more information, visit www.stephenministry.org/workshop or call (314) 428-2600.